United York Rite College No. 127
Assemblies
1-5 August 2018
Oak Brook, Illinois
61st. YRSC GENERAL ASSEMBLY
Fri 17 Aug 2018
1:15 pm
Cryptic Grand Assembly
Desmond Hotel, 660 Albany Shaker Road, Albany, NY
Statewide Assembly
Report on 61st. YRSC GENERAL ASSEMBLY
Discuss state of York Rite Masonry in New York.
Discuss future NY Assemblies
Fellowship.
Casual attire.
20 Oct 2018
1:00 pm
Oneonta
Assembly
8 Dec 2018
1:00 pm
West Winfield
Tentative Grand Governor's Official Visit. Proposals for membership and Trestle Board. Review the Order of Knight of York.
9 Mar 2019
1:00 pm
Oneonta
Appoint nominations and audit committees. Gold Honor Award and other forms of recognition by the Order,
11 May 2019
1:00 pm
Masonic Temple, Ilion, NY
Annual Assembly: Election & Installation
You are hereby SUMMONED to attend.
The agenda is a short Business Meeting and Confer The Order of Knight of York.
The nominating committee will give their report.
Elections will be held, followed by the installation of the officers for 2019-2020.
Come early (12:00 PM) for lunch and invite your Lady at a nominal cost. Lunch reservations to Phillip Chandler jphillipchandler at gmail.com on or before May 10th. AMD will be meeting prior to lunch at 10:30 AM.
1-6 August 2019
Salt Lake City
62nd YRSC GENERAL ASSEMBLY
Sat 10 Aug 2019
10 am
Utica Masonic Temple
Statewide Assembly
Report on 62nd YRSC GENERAL ASSEMBLY
Discuss state of York Rite Masonry in New York.
Fellowship.
Attire ?.
12 Oct 2019
Noon

1:00 pm
Oneonta
Lunch. Reservations can be made to Bruce Van Buren on or before 8 October at OneontaMasonry at gmail.com or 607-435-7767 (txt or call).
Assembly. PROGRAM: Prepare for Order of Knight of York and verify the cast, receive recommendations for membership and short history lesson on King Athlestan
Date
Time
Location
Details
14 Dec 2019
1:00 pm
Ilion
Assembly
14 Mar 2020
1:00 pm
Oneonta
Assembly: Confer The Order of Knight of York.
Appoint nominations and audit committees.
9 May 2020
1:00 pm
Masonic Temple, Ilion, NY
Annual Assembly: Election & Installation
You are hereby SUMMONED to attend.
The nominating committee will give their report.
Elections will be held, followed by the installation of the officers for 2020-2021.
Come early (12:00 PM) for lunch and invite your Lady at a nominal cost. Lunch reservations to TBD on or before May 7th. AMD will be meeting prior to lunch at 10:30 AM.
The dress for the day should be tux for Officers or dark suit for Companion Knights.
If you are an officer and can not attend, contact the Governor so a substitute can be notified.
Reminder, Payment of YOUR 2019-2020 DUES of $25.00 is now past due. If you do not have a dues card thru 31 May 2020 you owe current dues. If you do not have a dues card thru 31 May 2019 then you are also in arrears for your 2018-2019 dues. If you have any questions concerning your dues please contact the Secretary.
Please complete your membership if you don't have a dues card by sending a check made out to United York Rite College #127 by return mail to Dennis S. Davis, 10070 Wolcott Hill, Camden, NY 13316-3843.
---
Regular Meeting Places on 2nd Saturday March, May, October, December
Oneonta Masonic Temple
322 Main St., Oneonta, NY 13820
Ilion Masonic Temple
118 Morgan St, Ilion, NY 13357
Officers 2019-2020
Elected
Pre-Eminent Governor
Robert N. Rogers III
Eminent Deputy Governor
Earl G. Wilkinson
Eminent Chancellor
William S. Morley
Treasurer
David F. Stoy
Secretary
Dennis S. Davis
315-245-1699
deputydad416@twcny.rr.com
Trustee - 3 years
Phillip J. Chandler
Trustee - 1 years
Richard S. Transue
transuevania@gmail.com
Trustee - 2 years
Bruce L. Van Buren
607-435-7767
blvb@aaub.com
Appointed
Primate
Steven P. Esford
Preceptor
John P. Murray
Seneschal
Carl J. Klossner
Marshal
Steven R. Shearer
Sentinel
Frank R. Williams
Organist
Francis K. Wilcox
Asst. Treasurer
Fred G. Hickein
Historian
Stuart W. Card
Herald
Joseph I. Greenfield
Herald
Richard S. Morley
Committee Chairmen
York Rite Cooperation
 
Membership
Robert Rogers
Budget and Finance
Phillip J. Chandler
jphillipchandler@gmail.com
Degree Teams (Director of Work)
James Hemstrought, Jr.
Entertainment
Steven Esford
Awards
 
Nominations
 
Audit
 
Officers 2018-19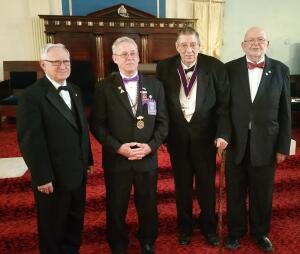 Pre-Eminent Phillip J. Chandler with his installing team
James Hemstrought, Edward Newsham, and David Stoy
News