Events 2021
None
| | | | |
| --- | --- | --- | --- |
| | | United | Official Visit Grand Governor / Deputy Grand Governor |
| | | New York | Official Visit of Grand Governor / Deputy Grand Governor |
| | | Albany | Official Visit of Grand Governor / Deputy Grand Governor |
| | | Genesee | Official Visit of Grand Governor / Deputy Grand Governor |
| | | Central | Official Visit of Grand Governor / Deputy Grand Governor |
| | | Niagara | Official Visit of Grand Governor / Deputy Grand Governor |
| | | Southern | Official Visit of Grand Governor / Deputy Grand Governor |
| | | Manhattan | Official Visit of Grand Governor / Deputy Grand Governor |
?
63rd YRSC GENERAL ASSEMBLY
Sat ?
10 am
Utica Masonic Temple
Statewide Symposium (see below)
Attire: casual.
News
2023-10-23 21:31

-

(18494 Reads)

-

Manhattan College has set up a Facebook page. To join, go to https://www.facebook.com/groups/manhattan210 and click on the +Invite button. You will be verified and if a member of the York Rite, given access.
The College met on Saturday, October 7, when Stenrick Adams, Deputy Governor, presented the College with a flag and a gavel.
The College approved the setting up of a Committee to design a bespoke tie and bowtie for the College. Since we are a daylight College, it was decided that members would wear a dark suit, and Officers a black jacket and striped pants similar to English daylight Lodges.
A photograph was taken to commemorate the 70% attendance at the October meeting.
Piers A. Vaughan
Secretary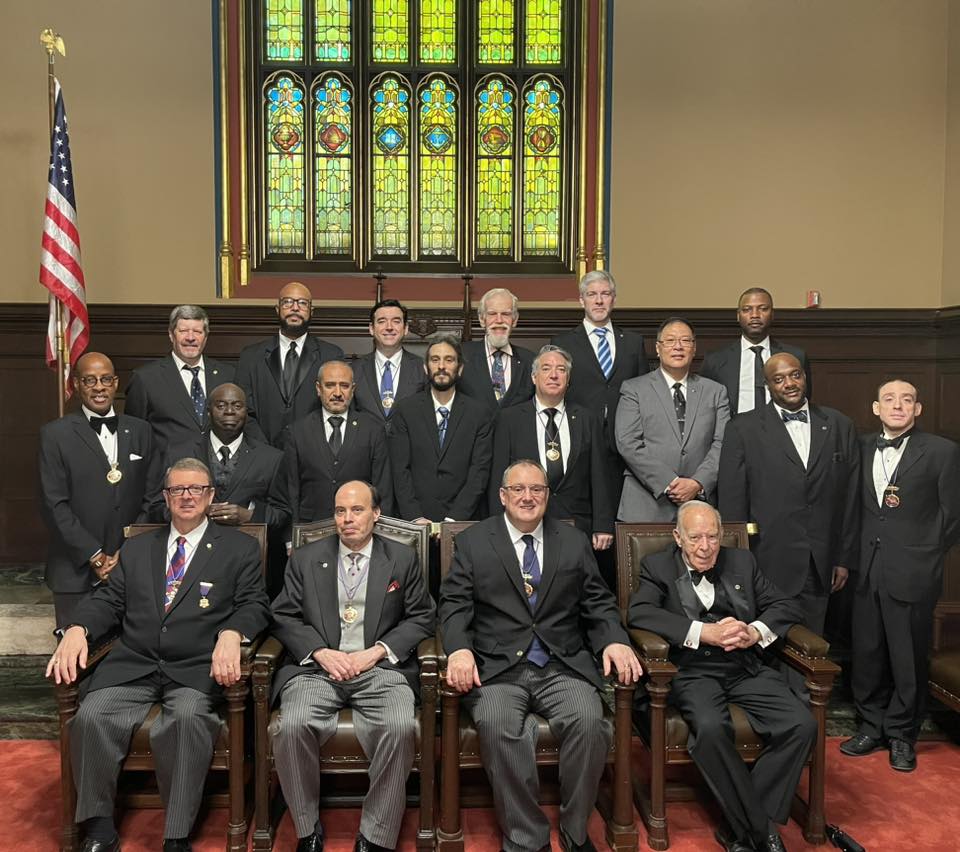 2019-12-19 17:03

-

(6258 Reads)

-

MANHATTAN COLLEGE NO. 210, Manhattan, New York
On Saturday, October 26, 2019, Manhattan College No. 210 received its Charter from Richard J. Kessler, Grand Governor of New York, accompanied by David Stoy, Deputy Grand Governor. The meeting was held in the Grand Lodge of New York, and in attendance were many members of the new College, including the Grand Secretary of the Grand Lodge of New York, R.W. Richard Schulz, and M.E. Edmund D. Harrison, Past General Grand High Priest of the General Grand Chapter (the Governor of the new College). The Grand Governor praised the College for putting on an excellent Order in May, and for their enthusiasm for the new body.
Following the inauguration of the College, the members adjourned to a local restaurant for a festive luncheon.
Fraternally submitted,
Christopher L. Allen
Secretary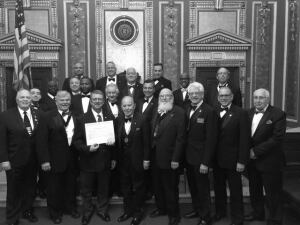 NY Symposium
Minutes 2018
On August 17, 2018 a meeting was held to discuss means of assisting our NYS Colleges in the administration of their particular colleges.
Attended: REDB Richard Kessler GG , VEDB David Stoy DGG 127, Edward Newsham PGG 127, Steven Wing PGG , Bruce Van Buren 127, Phil Chandler 127, Earl Wilkinson 127, Martin Leukhardt 24, David Hardy, Garry R. Hutchurson
College Tasks
Trestleboard to Grand Governor
Agenda 2020
Coffee & donuts 9 am
Open 10 am
Report on 63rd YRSC GENERAL ASSEMBLY
Reports from individual colleges
Discuss state of York Rite Masonry in New York.
Program
Lunch about noon
Close 2 pm
Workshops
Vacate 4 pm
Items Agreed Upon
Establish an annual meeting of all colleges commencing 2nd 2nd Saturday in August beginning with August 10, 2019
Place: Utica Masonic Hall
Invitees: all colleges; stressing council officers and secretary
Meeting to run from 10 am - 4 pm including morning donuts and a lunch break
Topics
update from the York Rite College session
discussion of what the OPC is
introduction of current and propose OPC recipients
Award criteria - personal and college
trestle board - presentation and workshop on how to
prepare
ritual workshop
constitutional workshop
College projects
web site

Utica Masonic Temple arrangements by Phil Chandler